About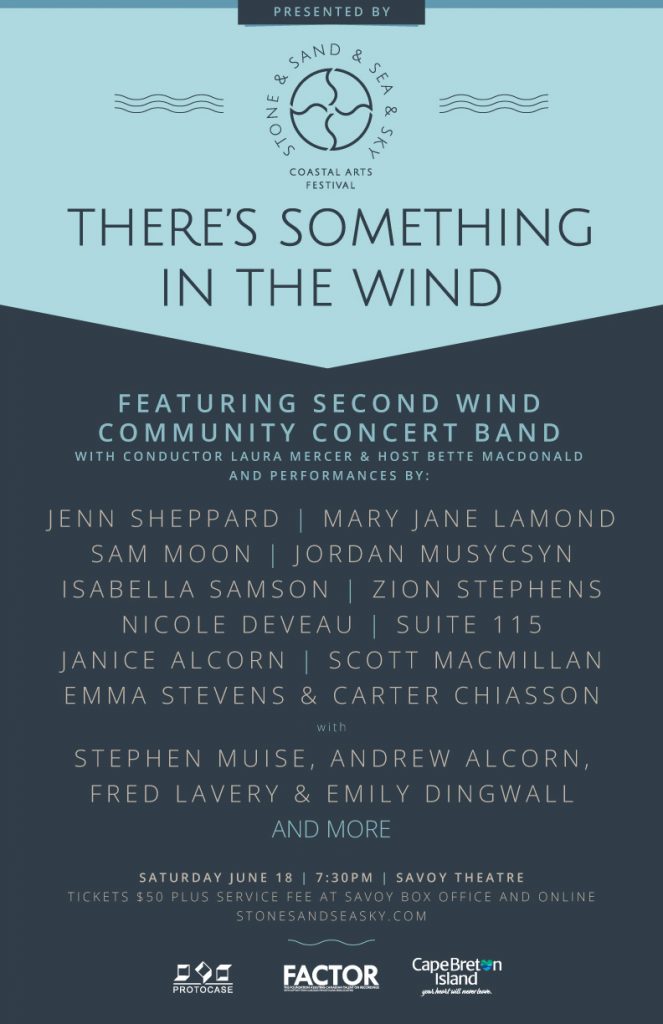 Stone & Sand & Sea & Sky Coastal ARTS Festival, a brand-new multi-genre arts festival, is launching Saturday, June 18, 2022 at Glace Bay's iconic Savoy Theatre with its presentation There's Something in the Wind.
There's Something in the Wind is a multi-media concert event with the Second Wind Community Concert Band setting the stage for an array of special guest performers. Second Wind Community Band, under the direction of Laura Mercer will be the backbone behind featured vocalists including veteran artists Mary Jane Lamond, Jenn Sheppard and Sam Moon. Joining these stalwarts are masterful musical storytellers Jordan Musycsyn and Nicole Deveau, and rising stars Isabella Samson, Zion Stephens and Emma Stevens who will be accompanied by Carter Chiasson. Sharing an original song composed during lockdown are members of NSCC's graduating Music Arts students who formed a band last year, Erin O'Brien & Suite 115. Weaving together the narrative of the evening is Cape Breton's own Bette MacDonald who, rumour has it, may even share one of her beloved jazz standards.
Second Wind Community Concert Band will be joined by guest musicians including guitar maestro Scott Macmillan, expert horn players Andrew Alcorn and Rowan Fitzgerald and vocalist Janice Alcorn. A masterful rhythm section led by Stephen Muise includes Fred Lavery on acoustic guitar and bassist Emily Dingwall.
This soft launch of the festival offers a taste of things to come and paves the way for a multi-day event in June 2023 – a festival celebrating the performing and visual arts set in coastal communities on the eastern shores of breathtaking Cape Breton Island. Stone & Sand & Sea & Sky Coastal ARTS Festival will predominantly feature musical performances with an emphasis on the singer/songwriter tradition. Dance, spoken word, storytelling and theatre will round out the performance and presentation aspects of the festival. Exhibits of various visual arts and crafts, presentations and a variety of free community family-oriented and educational events will enhance the festival program.